Chattanooga State and Girls Inc. Partner for Hour of Code
July 20, 2021 | Betty A. Proctor | Internal Press Release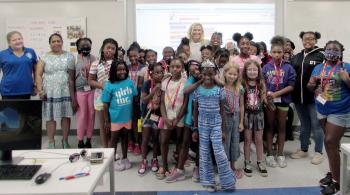 The Computer Information Technology Department (CIT) at Chattanooga State Community College recently partnered with Girls Inc., to host Hour of Code™, a summer coding workshop for girls as a K-12 outreach activity. The participants were introduced to Blocky (Dance Party), a drag-and-drop visual programming tool that introduces children as young as six to fundamental programming concepts including sequencing, loops, sensors + events, functions, variables, and conditionals through creative problem-solving.
A personal visit by Dr. Rebecca Ashford, Chattanooga State president, motivated and inspired the girls to work toward leadership roles as they learned coding. The girls were actively engaged while learning computer history, Binary code, Blockly code - programming using code.org dance party, computer parts and Flowgorithm.
Volunteer faculty and staff members that worked with participants included Dr. Tremaine Powell, Tiffany Scruggs, Rhonda McWhorter, Dr.  Lyn Potter, Savitha Pinnepalli, John Jones, Vicki Duncan and Hanadi Mohamed.
For more information about other learning opportunities in CIT, contact Savitha Pinnepalli at (423) 697-4756 or email Savitha.pinnepalli@chattanoogastate.edu.