Ben Nemtin Virtually Visits Chattanooga State
May 26, 2020 | Betty A. Proctor | Internal Press Release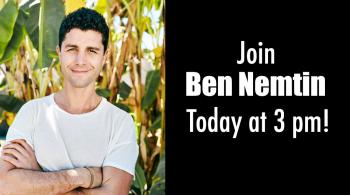 Ben Nemtin, a motivational, inspirational speaker, #1 best-selling author, and co-founder of MTV's The Buried Life, will present a special virtual event "Resilience in the Face of Uncertainty," at 3 p.m. on Tuesday, May 26, sponsored by Chattanooga state Community College. Registration is required for this free event.
In a pit of depression during his first year of college, Ben Nemtin created the world's greatest bucket list with his three best friends in an attempt to feel more alive. Each time they crossed something off their list – like playing basketball at the White House or having a beer with Prince Harry – they helped a complete stranger cross something off their list too. They have reunited a father and son after seventeen years, surprised a girl with a much-needed bionic arm, and helped a daughter find her mother's grave after Hurricane Katrina. Ben's quest to complete his bucket list has inspired millions.
As a man who is living his bucket list, Ben Nemtin encourages audience members to attain their dreams. He has headlined business conferences and Fortune 100 leadership teams around the world, garnering standing ovations from AIG, Anthem, Amazon, FedEx, Harvard, Microsoft, Verizon, and more. Global Gurus ranked Ben in the Top 30 Best Organizational Culture Thought Leaders in the world in 2019.
Attendance is limited for this free event. Register today at https://www.chattanoogastate.edu/events/ben-nemtin-resilience-face-uncertainty.