AT&T Foundation Donates $10,000 to Chattanooga State
September 22, 2021 | Joe Burgan | Internal Press Release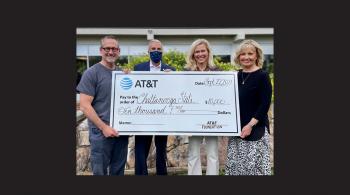 As part of AT&T's continuing commitment to supporting quality education across Tennessee, the AT&T Foundation has donated $10,000 to Chattanooga State Community College. The grant will provide scholarships for minority and underserved students who are either unemployed or underemployed.
We are grateful to AT&T and its continued support of public higher education and our students, who will benefit greatly from the company's generosity," said Dr. Rebecca Ashford, President, Chattanooga State Community College. "Our students have many financial needs, and this support will help remove barriers on their path to higher education – particularly as they pursue a non-traditional path to their education."
While Tennessee Promise and Tennessee Reconnect provides tuition-free access to the state's community colleges, gaps remain that can create a barrier to entry for some students pursuing a market-driven, industry-recognized credential. The AT&T Workforce Training Scholarship at Chattanooga State will aid students who are pursuing career enhancing coursework offered through the college's Division of Economic and Workforce Development that leads to a nationally recognized certification or licensure not covered by other financial aid programs.
"Chattanooga State Community College does a tremendous job preparing students to enter the workforce with a strong foundation for future success," said Sen. Bo Watson. "Thanks to their commitment to quality education, Tennessee has a first-class workforce ready to meet the needs of the rapidly evolving 21st century economy."
"Higher education often creates a pathway to prosperity for those looking to quickly enter the job market and today's announcement aims to enrich that opportunity for more students," said Representative Patsy Hazelwood.  "AT&T's investment in programs like this exemplifies its commitment to furthering education in Tennessee."
This donation is part of the AT&T Foundation's $130,000 gift to the Foundation for the College System of Tennessee. Funding has been divided equally among Tennessee's 13 community colleges to support students across the state.
"AT&T is focused on developing a 21st century workforce that can promote continued prosperity and a stronger economy across Tennessee," said AT&T Tennessee President Joelle Phillips. "We are excited to continue our support of Chattanooga State Community College to help more students gain the education necessary to compete for quality job opportunities and to empower more students to reach their highest potential."
The 13 Tennessee Community Colleges are as follows:
Chattanooga State
Cleveland State
Columbia State
Dyersburg State
Jackson State
Motlow State
Nashville State
Northeast State
Pellissippi State
Roane State
Southwest Tennessee
Volunteer State
Walters State
About Philanthropy & Social Innovation at AT&T
We're committed to advancing education, creating opportunities, strengthening communities and improving lives. AT&T Connected Learning is a multi-year commitment to bridge the digital divide and narrow the homework gap, so today's learners are connected with skills, resources, and opportunities for success in school and in life. Since 2008, we've committed $600 million to programs that help millions of students across all 50 states and around the world, particularly those in underserved communities.