"Applications and Appetizers" at ChattState's Juneteenth Celebration
June 7, 2021 | Betty A. Proctor | Internal Press Release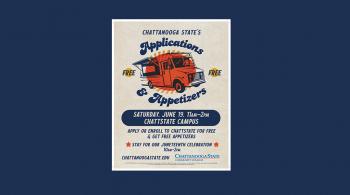 Chattanooga State's Juneteenth Celebration on June 19 has added a fun, free, mouth-watering "Applications and Appetizers" event for individuals who want to apply or enroll for classes this fall. Stop by anytime between 11 a.m. and 2 p.m. to enjoy free appetizers on the main campus at 4501 Amnicola Highway from Kena's Cajun Kitchen and Shane's Chicken Fish, & More.
"Holding the Applications and Appetizers event during the Juneteenth Celebration presents an opportunity to provide a convenient time and place for students to learn more about Chattanooga State in a fun way," stated Dr. Kisha Thomas, recruiting and orientation director. "Recruiting and enrollment staff will be on hand to assist with application and enrollment processes and the event will provide an opportunity for attendees to meet some of Chattanooga State's faculty and staff."
This event offers a great opportunity to meet Chattanooga State faculty and staff members who will help clear your pathway into college by providing a friendly face, sound advice and a helping hand to make sure your transition is smooth.
For more information, call Chattanooga State's Recruiting Office at (423) 697-2689.