ANTSHE Award Presented to Chattanooga State's Marsha Barker
June 30, 2020 | Betty A. Proctor | Internal Press Release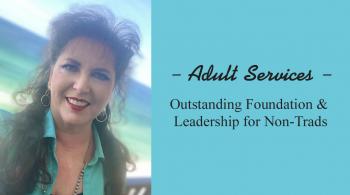 Chattanooga State's Marsha Barker demonstrates a deep dedication to her students. Recently, this was evidenced when the Association for Non-Traditional Students in Higher Education (ANTSHE) presented her with the Outstanding Foundation & Leadership for NonTrads award. "After careful review of your program, and out of a number nominations from colleges and universities across the country, your Adult Student Services program at Chattanooga State Community College, was selected to receive this award because of your commitment and obvious devotion to non-traditional student success. This recognition serves as a true inspiration for other colleges and universities across the country." said Lori Viar, executive director of Pinnacle and Spire Honor Societies, in a congratulatory letter to Ms. Barker.
"I am incredibly proud of the Chattanooga State Adult Services department under Marsha Barker's leadership for receiving this recognition from ANTSHE. Chattanooga State is an exceptional place for adult students to complete their degrees and either transfer or advance in the workforce," states Dr. Rebecca Ashford, Chattanooga State president. "This award confirms that."
Adult Student Services has helped to provide adult students with the resources and support they need to aide in their degree success. As its director, Ms. Barker is heavily focused on Tennessee Reconnect and the opportunities this program presents to adults seeking to further their educational goals. ChattState adults participate in special events such as the Adult Student Club Picnic (C.AD.R.E.), Adult Student Recognition Day, Adult Student Group Chats, and Spire Honor Society. Marsha's personal dedication to helping students succeed includes recognizing adult students for their accomplishments during a weekly TN Reconnect Tuesday on social media and Adult Student Success Stories used to inspire other adult students.
"I am deeply honored to be the recipient of such an important award and truly grateful to ANTSHE for recognizing my work with adult students. Mere words are inadequate to express my gratitude," noted Ms. Barker.
Chattanooga State's Adult Student Services provides information about Tennessee Reconnect and guidance with the Reconnect process; assistance with admissions, readmission and/or transfer; understanding academic policies, rules and regulations; information about other college services and departments, childcare, financial aid, Spire, and acknowledgement through college credit of prior work experience (PLA); as well as mentoring and special student success sessions, seminars and special events.
Due to the pandemic, the April ANTSHE Conference was canceled, however, ANTSHE plans to recognize Chattanooga State during the 2021 conference.
For more information about Adult Student Services, contact Ms. Barker at (423) 697-4753 or email marsha.barker@chattanoogastate.edu.