Amanda Roper Named ALA Emerging Leader
January 7, 2020 | Betty A. Proctor | Internal Press Release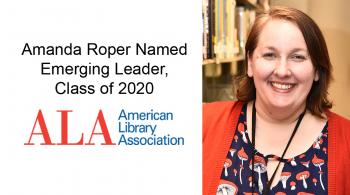 Chattanooga State's Night/Weekend/Tennessee Reconnect Librarian, Amanda Roper, has been named as one of 50 participants in the American Library Association (ALA) Emerging Leaders, Class of 2020.
"This is a highly competitive and prestigious program sponsored by ALA to help shape the next generation of newly minted librarians," states Susan Jennings, Chattanooga State dean of Library Services.
This ALA program is designed to enable library staff and information workers with the opportunity to participate in project planning work groups, network with peers, gain an inside look into ALA structure, and have an opportunity to serve the profession in a leadership capacity early in their careers.
"Amanda will be assigned a team to work with other librarians from across the country. Each team completes a project that will inform the library profession as a whole," added Jennings.
All 50 participants received sponsorships through ALA divisions, roundtables, state chapters, and ALA affiliate organizations. The sponsors commit to financial support of an Emerging Leader in order to help defray costs of attending the ALA Midwinter Meeting and Annual Conference.