September 4, 2015 | | Internal Press Release, Student Success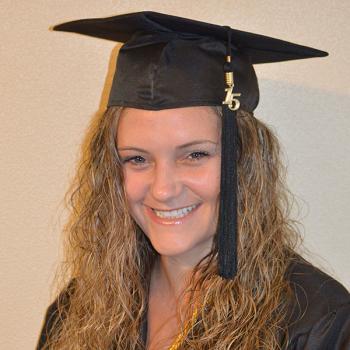 Chattanooga, TN (September 4, 2015) --- Lindsay Childers, a 2015 graduate of the Physical Therapy Assistant Program (PTA) at Chattanooga State Community College scored the highest possible grade on the National Physical Therapy Exam in July. As an outstanding student, Lindsay also was awarded the Program Excellence Award by Caroline Rogers, PTA program director. She is employed by Hamilton Medical Center in Dalton.
"I have felt honored from the first day to have been accepted into the PTA program at Chattanooga State with its long standing success rate. This program has taught me so much more than physical therapy and I feel that I have become a better person as a result. It was inspiring to have teachers that were just as compassionate about our personal success as they were about their own job," states Childers.
For more information about the Physical Therapy Assistant Program, call 423.697.4450 or visit https://www.chattanoogastate.edu/program/nursing-allied-health/physical-therapist-assistant-aas.