LRC Classes Build Skillsets, Expand Opportunities
March 3, 2016 | | Internal Press Release, Student Success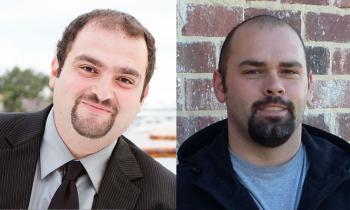 Chattanooga, TN (March 3, 2016) --- Chattanooga State's Economic and Community Education Department offers Limited Residential Contractor Licensing classes several times a year within its service area. The course includes license application processes, international building codes, an introduction to Tennessee construction laws, legal and financial issues, accounting practices, loans, liens, and insurance. Participants also learn to read blueprints, build to specifications and adhere to codes and regulations.
Michael Helou was looking to expand his small handyman business into a larger scale remodeling and residential building business when he came across the Limited Residential Contractor Licensing classes offered at the College. "I realized that I had the opportunity to gain some valuable knowledge and learn skill sets that I could use down the road," explains Michael.
Helou gained a lot of practical knowledge and says, "The instructor was very knowledgeable and had an impressive resume of building experience. I was able to ask him questions and review some of the code book with him. This course is really the first hands-on experience in the field of residential building."
Following completion of the course, Michael has begun taking on medium-scale remodeling projects and is pleased to be able to help homeowners improve their homes while increasing the value of their homes.
Josh Helton completed the LRC course almost two years ago and says, "Becoming my own boss has changed my life so much." He explains that the past two years have been very successful for him and that going into his third year following completion of the course "looks even better." Josh has enjoyed doing several successful remodeling jobs and now has two new houses in the works for 2016.
Students who successfully complete the class will have basic knowledge to own and operate a small construction company, just like Michael and Josh.
For more information about the next Limited Residential Contractor Licensing Class call the Economic and Community Education Department  at  423-697-3100, or email continuinged@chattanoogastate.edu.