Halling Presented with Malco "Head of the Class" Award
May 18, 2022 | Betty A. Proctor | Internal Press Release, Student Success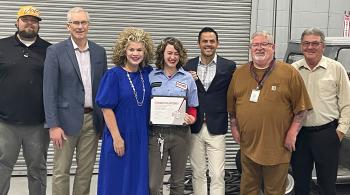 May 18, 2022 (Chattanooga, TN) --- Kenadie Halling, a high-achieving student in the Tennessee College of Applied Technology (TCAT) Collision Repair Technology program at Chattanooga State Community College, recently received a "Head of the Class" award by Malco Products, SBC. Regent Weston Wamp made the presentation.
Kenadie was selected based upon her attendance, participation, grades, and internship experience. She received a certificate, Malco head gear and a tool gift, while the entire graduating class received Malco caps.
Looking forward to completing her degree and starting her career as a collision repair technician, Ms. Halling said, "I'm proud and humbled to receive the Malco "Head of the Class" award." Tim Chastain, TCAT Chattanooga Collision Repair Technology instructor praised Kenadie by saying, "In addition to good grades, attendance, and work ethics, Kenadie stays on task and finishes her hands-on work in a timely manner."
"We are very pleased that Kenadie is excelling in our collision repair program, she represents TCAT Chattanooga well," noted Dr. Jim Barrott, executive vice president, TCAT Chattanooga. "Also, we are grateful for the support given to students by our industry partners like Malco. They are essential to the success of our students and programs."
Since 2005, Malco's student recognition program has reached more than 55,000 students, including 3,000 "Head of the Class" honorees, representing more than 700 high school career technical education programs, technical schools, union Joint Apprenticeship Training Committees and industry programs across the U.S. and Canada.
For more information about the Collision Repair Technology program at TCAT Chattanooga, call 423.697.4433 or visit their web page here.