Chattanooga State Inducts 35 Into Spire Honor Society
May 17, 2022 | Betty A. Proctor | Internal Press Release, Student Success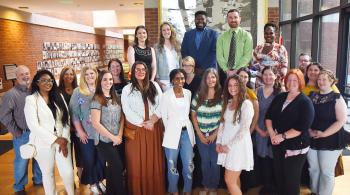 May 17, 2022 (Chattanooga, TN) --- Chattanooga State Community College recently welcomed more than 100 guests to celebrate the induction of 35 adult students into the Spire Honor Society. Spire is the #1 nationally recognized honorary society for adult and other non-traditional students enrolled in two-year colleges. Spire was created to provide non-traditional students with the same level of recognition that outstanding traditional students have always received.
Newest members of the Spire Honor Society include Jennifer Allen, Carlye Barham, Megan Barrott, Jennifer Bontekoe, Kaitlin Botts, Brandon Breland, Michelle Brown, Ashley Dawn Bunch, Malaysia Burgess, Anna Elliott, Joseph Evans, Amanda Hernek, Kristy Hill, Sierra Huffines, Amie Hughes, Lacey Hyde, Kirsten Jeffers, Laura LeMay, Kristen Martin, Jessica Kristen Mason, Elizabeth McGowan, Zennia NeSmith, Austin Pack, Aaliyah Parrish, Stephanie Rhoades, Donna Robarge, Katie Rymer, Andrew Sisk, Donald Swoopes Jr., Ashley Thompson, Drake Thompson, Amberthest Wertanen, David Winters, Ashley Wise, and Brittany Woods.
To be selected for SPIRE, individuals must qualify as an adult or non-traditional student under locally derived and maintained definitions, be within 12 months of graduation or have completed 33 college credit hours, have a minimum GPA of 3.0, be involved in at least three campus or community activities, demonstrate leadership, persistence, future promise, and maintain the highest ethical standards.
Established in 1989, Spire represents the highest achievement of academic performance and out-of-class accomplishments that a non-traditional student can attain in America's community and junior colleges.
For more information about the Spire, please contact Marsha Barker, director of Adult Services and Tennessee Reconnect  at 423.697.4753 or email marsha.barker@chattanoogastate.edu.