McCormick Receives YMCA Honor
April 13, 2016 | | Internal Press Release, Staff Spotlight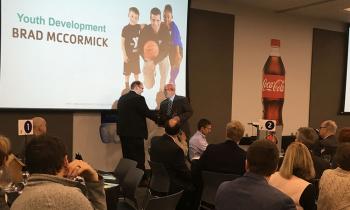 Chattanooga, TN (April 13, 2016) --- Brad McCormick, assistant vice president for Student Affairs at Chattanooga State Community College, was presented the 2016 Community Impact Award for Youth Development during the 144th Annual Meeting of the YMCA of Metropolitan Chattanooga.
As a student at Chattanooga School for Arts & Sciences (CSAS), Brad was an extraordinary and highly awarded delegate, officer and Director General of the Southeastern High School Model UN Conference (SHSMUN). After graduating from college and returning to Chattanooga, Brad continued to take an interest in SHSMUN and volunteered to help with the conference.
In 2007, the YMCA asked Brad to coordinate the conference.  As a former officer, he understood and emphasized the things that make SHSMUN uniquely excellent among the growing field of high school Model UN conferences. College students run almost every Model UN program designed to host high school students. College students organize it, they're the chairs of all the committees, but the participants are high school students.
SHSMUN is the only program (that we know of) where high school students organize and chair it for their peers.  It's one of the most distinctive features of our Model UN as compared to others.
McCormick understands that the leadership skills gained through this experience will benefit these students in innumerable ways throughout their lives. Brad has guided and mentored countless SHSMUN officers and delegates and continues to do so. Even though Brad no longer coordinates SHSMUN, he continues to volunteer with the program and his expertise and vision remain critical to its growth. 
"There's something special about Model UN students," McCormick said.  "It's an honor to be able to work with a collection of high school students who spend their free time thinking about the world.  SHSMUN's officers, delegates, and advisors have broadened my thinking and taught me so much year after year."
Brad helps to instill an understanding of and appreciation for the complex world of international diplomacy, peace and security. His guidance helps build the next generation of informed, caring leaders.