2015 Excellence Awards Announced
February 8, 2016 | | Internal Press Release, Staff Spotlight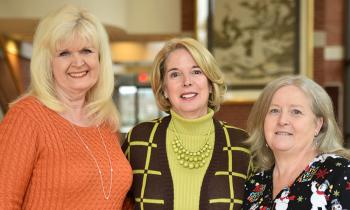 Chattanooga, TN (February 8, 2016) --- Chattanooga State President Dr. Flora Tydings recently announced the 2015 Excellence Awards winners. Professional Staff Association member Vicki Headrick and Support Staff Association member Debbie Poteet each received a $500 award for their steadfast commitment to excellence.
Vicki Headrick is the current Director of Chattanooga State's Child Development Center. "Vicki is one of those professionals who quietly do their jobs with little recognition, but with passion and excellence," shares Jeff Culler, former assistant director of institutional research and parent. "What I appreciate most is that I had absolute confidence that my children were in a caring and safe environment while I was at work," he adds.
During one of Chattanooga's darkest days on July 16, 2015, Chattanooga State was placed on lockdown due to the shooting at the Naval Reserve Center. "I have never in my life seen so many people with such tremendous responsibility for the care of other people's children. They behaved calmly and professionally while dangerous events unfolded just moments away," commented Amanda Bennett, Global Scholars coordinator and parent. "Vicki scrambled to get all the children and teachers secure in classrooms," she added. Because lunch could not be delivered from the cafeteria, Vicki and her teachers shared their own lunches and snacks with the children in addition to communicating with parents who were not at the Center to keep them informed about the safety of their children. "She was flawless," shares Mrs. Bennett, admiringly.
Debbie Poteet, Executive Secretary for Academic Affairs, "is a remarkable human being who goes above and beyond the call of duty to assist others," says Marsha Goolesby-Barker, director of Academic Coaching and Advising. Debbie fields calls daily from faculty, staff, students and the community. As an outstanding team player, Debbie possesses a "high level of integrity" making her an ideal choice for the Support Staff excellence award.
Debbie has been a part of the Chattanooga State family for more than 22 years. Some of her administrative duties include the production of the Chattanooga State online catalog, maintaining the academic calendar, and serving as liaison for Academic Affairs to the Tennessee Board of Regents including work with the TBR Vice Chancellor's Office for Academic Affairs. Debbie describes herself as a "team player," and says, "It is very important to be as good at what I do as I can be and to push myself at all times."
Chattanooga State recognizes employee excellence annually. The nomination committee selects three nominees with the final selection made by the president.