Zink 2017-18 First Tennessee Chair of Excellence at Chattanooga State
October 13, 2017 | | Faculty Spotlight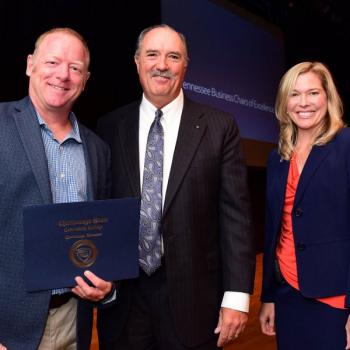 Chattanooga State Community College Business faculty member Dan Zink was recently named the 2017-2018 First Tennessee Chair of Excellence. Zink is currently the Director of the Hospitality & Tourism Management program at Chattanooga State.
Bobby Lusk, senior vice president of First Tennessee, presented the First Tennessee Chair of Excellence in Business to faculty member Dan Zink recently. "First Tennessee is proud to invest in education excellence in our community, and we are honored to recognize the outstanding work of hospitality instructor Dan Zink," said Mr. Lusk.
The First Tennessee Endowed Chair of Excellence in Business was established through the Chattanooga State Foundation for the purpose of recognizing a distinguished faculty member within the Business Division.
The Business Division at Chattanooga State prepares students to enter the rapidly changing business world in a variety of programs, from accounting, marketing and digital media, to paralegal, hospitality management and culinary arts.
For more information about the Chattanooga State Business Division, please visit: chattanoogastate.edu/business.