Sam O'Rear: Above and Beyond
December 7, 2016 | | Faculty Spotlight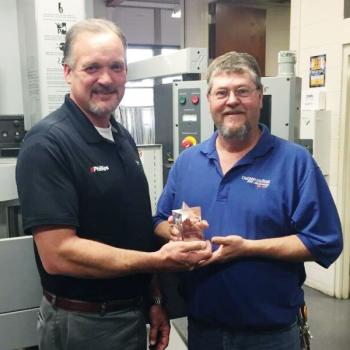 As an Instructor of Machine Tool Technology for the past 10 years in the Tennessee College of Applied Technology at Chattanooga State, Sam O'Rear works hard to train each and every student that walks through his doors. He is a ChattState 1984 alum of the program he teaches, a 1985 graduate of the tool and die program, and has been active in the industry since 1984.
A business owner/operator himself by day, Sam teaches the night machine tool program, yet still finds time to help others. Ken Potts, Sales Engineer for Haas Factory Outlet/A Division of Phillips Corporation said, "I have interviewed more than 12 of his former students that are working in the field and each of them had very high marks for Sam. Some of the students went on to tell me how Sam helps them after they have graduated via phone or going by to help. I have witnessed Sam in action and he interacts with his students in a professional way while answering their questions and catering to each of their needs."
The Phillips HTEC Virtuoso award was presented to Sam last week after several companies made recommendations about him. "He goes out of his way to help his students as well as the companies that hire his students, which is a testament to the support and growth he provides to their employees," says Potts.