ChattState Honors Employee Excellence
February 1, 2017 | | Faculty Spotlight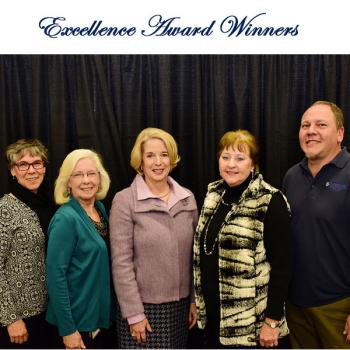 Chattanooga State's top priority is student success. The 2016 Excellence Award winners all embody the same characteristics to ensure success: teamwork, integrity, productivity, and professionalism. Nominated by supervisors and/or fellow colleagues, members of the Chattanooga State Foundation Board had the challenging task of selecting a winner from each category that included TCAT Excellence in Teaching, Arts & Sciences Teaching Excellence, Advising, Professional Staff, and Support Staff.
Houston Graham, HVAC/R program associate instructor in the Tennessee College of Applied Technology (TCAT), was selected to receive as the TCAT Excellence in Teaching award. Mr. Graham worked diligently to obtain recertification of the HVAC/R program and is well known as a mentor to his students. "Houston instills in his students the need to cultivate proper work ethics, as well as personalities to help them to become more positive and make possible adjustments in their everyday experiences," states Richard Claburn, recently retired senior instructor, Industrial Electricity/Electronics. "He has a teacher's heart and his first priority is the success of his students," adds Claburn.
Since 1998, Debra Jones has contributed significantly to the Speech discipline at Chattanooga State. Ms. Jones is the 2016 Arts & Sciences Teaching Excellence award recipient. As a "lead teacher" for SPCH-1010, she responds quickly to the needs of students, mentored adjuncts, developed and revised the online version of SPCH 1010 course, led the integration of the flipped classroom model, created several academic audit documents for the speech team, and advocated for a redesign of the SPCH-1010 classroom form and function. "Debra's high level of dedication to her students and her craft is nothing new. She has maintained the same enthusiasm for her students as well as her job all these years," states Dr. Joel Henderson, Humanities department chair.
Chosen as to receive the Advising Excellence Award, Judy Mabe is a full-time dental hygiene faculty member who advises more than 95 students each semester. This number not only includes students who are currently enrolled in the program, but any Chattanooga State student who desires to apply to the program at a later date. She also makes herself available to students who are transferring from another college specifically to apply to dental hygiene. According to Angie Maida, Dental Hygiene Program Director, "Judy inspires all of the dental hygiene faculty and her students to give a little more, pursue higher goals, and continues to se the bar high for the profession."
Assistant Librarian Sandra Williford is known for her commitment to student success and this driving force is behind everything she does. Nominated by supervisor Elisabeth Ferguson, coordinator of public services for the Kolwyck Library, and Chattanooga State Associate Professor of Nursing Yolanda Green, Ms. Williford was rewarded for her dedication with the 2016 Professional Staff award. As a librarian-in-residence for the Nursing and Allied Health Division, Sandra developed a General Nursing Libguide that is used by every nursing student and she provides information for students seeking enrollment in the nursing program on how to prepare for the TEAS admission test. "When she is assisting students, she does not do the work for them, but demonstrates how to develop research skills, provide correct citations, etc. She prepares the students to independently excel on the current assignments as well as future assignments," shares Ms. Green.
Engineering & Information Technologies teaching lab assistant and Support Staff award recipient Peter Kriener is always on the go as he assists four department heads and more than 24 faculty members, works with 26 programs and maintains millions of dollars in equipment. "Peter strives for excellence in all that he does," states Caitlin Moffitt, associate professor-lead for Civil & Construction Engineering Technology. "He works hard to keep our technical lab spaces, computer labs, classrooms, and equipment in sterling condition. In addition, he works with students to oversee projects, offering constructive feedback to encourage critical thinking," she adds. Associate Professor for Manufacturing Technology Mark Palmer says, "Peter goes out of his way to ensure we professors have an exceptional experience for students by ensuring that everything is ready and prepared for classes."
Chattanooga State recognizes employee excellence annually. The nomination committee selects three nominees with the final selection made by the Foundation board. The winner in each category receives $500.