Barnett and McCarthy 2017-18 Erlanger Nursing Chairs of Excellence
October 11, 2017 | | Faculty Spotlight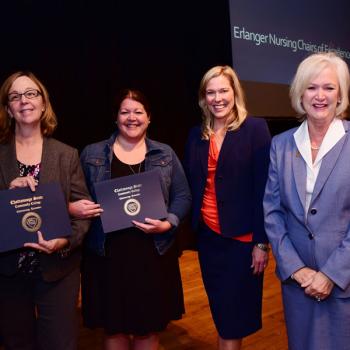 Chattanooga State Community College Nursing Faculty members Karrie Barnett and Michele McCarthy were recently named the 2017-2018 Erlanger Chairs of Excellence. Barnett is an Assistant Professor in the nursing program, and Michele McCarthy is a nursing instructor.
Dr. Jan Keys, senior vice president and chief nurse executive of Erlanger Health System, presented the Erlanger Nursing Chair of Excellence for Children to Karrie Barnett, and the Erlanger Nursing Chair of Excellence for Adults to Michele McCarthy.
"We are honored to expand the Erlanger Nursing Chairs of Excellence program and recognize two outstanding nursing educators," said Dr. Keys. "Nursing education is the foundation for developing a quality driven nursing workforce."
The Erlanger Nursing Chairs of Excellence program was established by Erlanger through the Chattanooga State Foundation in 2012 to recognize faculty excellence in nursing with a Chair of Excellence for five years. This year, Erlanger expanded the program to two Chairs of Excellence annually over the next ten years.
The Chattanooga State nursing program maintains state approval by the Tennessee Board of Nursing and national accreditation by the Accreditation Commission for Education in Nursing. Graduates of the nursing program obtain an Associate of Applied Science degree and are eligible to take the National Council Licensure Exam (NCLEX-RN) to become a Registered Nurse (RN). The 2016 NCLEX pass rate for Chattanooga State nursing graduates was 96.7 percent.
For more information about the Chattanooga State Nursing Program, please visit: Chattanoogastate.edu/nursing.