Time to Apply for Scholarships at Chattanooga State
January 4, 2016 | Nancy Patterson | College Advancement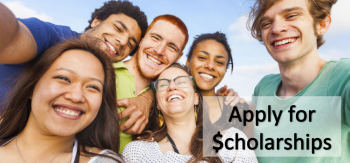 Will you help us spread the word? It is time for students to apply for scholarships at Chattanooga State for fall 2016.
The 2016-2017 Scholarship Application is available for current and incoming students who have TigerWeb IDs and passwords. All current students who will be enrolling in Fall 2016 should submit applications as early as possible. Students who complete the application by the priority date of February 15, 2016, will receive preference with regard to scholarship awards. Both Tennessee Promise and Hope eligible and adult students are encouraged to apply.
For faculty and staff who are asked to submit references on students' behalf, please consider completing any reference requests that you might receive via campus email. Students without at least two references cannot be considered for most scholarships.
In partnership with Chattanooga State Community College and the Chattanooga State Foundation, more than $800,000 in combined scholarship funding is provided annually for qualified Chattanooga State students, helping them prepare for careers or transfer to four-year universities.
For more information on how to apply, visit chattanoogastate.edu/scholarships and check out our scholarship guide here.
Questions? Please contact Andy Cross at Gregory.Cross@chattanoogastate.edu