ChattState's First 50th Year Reunion: Gary Ainscough
September 25, 2017 | Nancy Patterson | College Advancement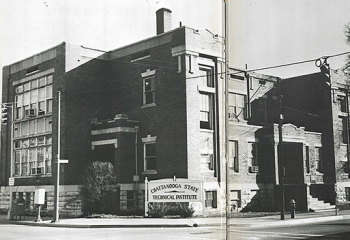 by Gary Ainscough, Class President of first graduating class, 1967
Oh my, where has the time gone? Why has the time moved by so quickly?
Either way, it was very special to be reflective and appreciate how our paths crossed with Chattanooga State. Our professional careers were launched into meaningful job opportunities. Let's go back to the beginning.
Chattanooga State alum Gary Ainscough, Class of 1967
The year was 1965. Most of us had just graduated from high school, while others came from low-paying jobs or had served in the military. The majority of us were born after WWII and were called the Baby Boom Generation. The Vietnam War was going on.
Suddenly a small group of us (e.g. approximately 100) learned of a new educational opportunity whereby you get a two-year degree in a technical vocation offered at the new Chattanooga State Technical Institute (CSTI). The original campus was in Downtown Chattanooga at the corner of 4th Street and Chestnut Street (photo above). The building facilities were modest and had been setup for classroom arrangements.
We enrolled in the fall of 1965. After attending classes, we soon discovered that our faculty had come from real jobs in their respective industry. Also, the faculty had a great attitude toward us and wanted us to be successful, which encouraged us immensely. This unique connection with the faculty inspired us to work harder in our academics.
Fast forward to June 12, 1967: on the steps of the new campus off Amnicola Highway, Chattanooga State's First Graduating Class ceremony was conducted. The new campus buildings were still under construction and we stood proudly on the steps where the "Tiger" can be seen today!
After graduation, many were hired to good jobs in Chattanooga, Knoxville, Oak Ridge, Memphis, and other surrounding areas.
In 1987, we held our First Reunion and realized that we were still making great successes in the fields of our expertise. Again in 2013, we assembled another Reunion whereby we took a full tour of the campus and our minds were blown by the vast improvements.
On October 7, 2017: Chattanooga State will honor the graduating Class of 1967 into the inaugural Chattanooga State Half Century Alumni Club.
Our Class will gladly carry the banner of being First: we heard, enrolled, studied, and pursued our profession, but it was Chattanooga State that prepared us for fulfilling professional careers. Now most of us are retired, but we remember proudly our beginnings with ChattState!