AGC of East Tennessee Donates $150,000 to ChattState
March 2, 2016 | Betty Proctor | College Advancement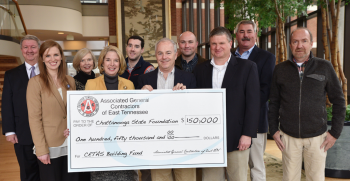 Associated General Contractors of East Tennessee (AGC) recently donated $150,000 in a matching gift to develop construction laboratories in the Center for Engineering, Technology, Arts & Sciences (CETAS) building to expand the Construction Management program at Chattanooga State Community College.
Roger Tuder, president and CEO of AGC East TN, noted that the construction industry is the second largest employer in the nation.
"These labs will provide students with hands-on experience in planning for their future in the construction industry. We must provide every opportunity for individuals and embrace their desire to enter the professional construction industry," adds Tuder.
The construction growth locally makes the Construction Management program important to the community.
"By providing resources toward this endeavor, we feel Chattanooga State will provide a skill necessary to perform the professional needs in the construction industry. Classroom time is simply not enough, hands-on experience will last a lifetime," stated Tuder.
Chattanooga State's Construction Management program is headed by Caitlin Moffitt, assistant professor of civil and construction engineering technology. She also advises the student chapter of AGC.
For more information about the program, email Caitlin.moffitt@chattanoogastate.edu or call 423-697-4434. To request more information about the matching gift or to make a donation, contact the Chattanooga State Foundation director of college advancement, Tammy Sawyers, at 423-697-3359.