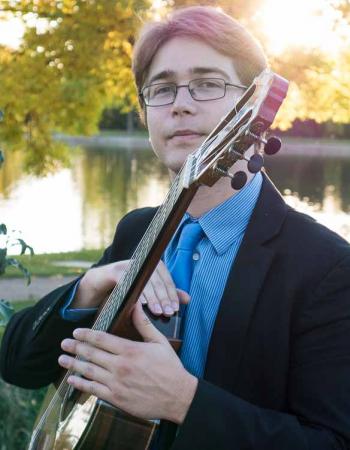 Title: Adjunct Instructor of Music
Specialty: Classical Guitar
Fax: (423) 697-4430
Alejandro Olson enjoys a varied career as a performing artist and a teacher. He has competed in competitions around the world and holds first prizes from Le Domaine Forget Competition, the Grossmont Concert Association Competition, and the Denver International Guitar Competition.
As a performer, Alejandro has given concerts across the United States, Italy, Canada, and Norway.  Some of his most notable performances include his concerts at Carnegie Hall in New York city, Florence Kopleff Recital Hall in Atlanta, GA, and Hamilton Recital Hall in Denver, Colorado. 
Alejandro holds a Master's of Music degree from the University of Denver under the instruction of Dr. Jonathan Leathwood and a Bachelor's of Music degree from Columbus State University under Dr. Andrew Zohn.  He served as a graduate teaching assistant at the University of Denver where he taught applied guitar to undergraduate students.
In the community, Alejandro is involved in GuitarChattanooga, a non-profit organization that hosts world-class guitarists at little to no cost to the public. He is a member of the board as well as the associate conductor for the organization's guitar orchestra/quartet.  He also performs as part of the Chattanooga Guitar duo with Dr. Michael McCallie, the founder.
Alejandro currently teaches at Chattanooga State Community College and maintains a guitar studio at the Cadek Conservatory of Music in Chattanooga, TN.  He coaches and instructs students of all ages and backgrounds in the Chattanooga area.