Student Research Symposium Impresses Judges
May 20, 2019 | | Internal Press Release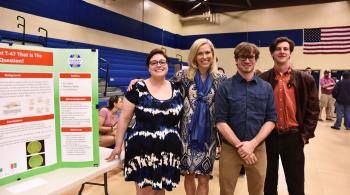 Chattanooga State's Spring Student Research Symposium drew 150 student presentations and more than 250 attendees to the event. The Symposium is an interdisciplinary showcase of student research projects that address challenges in their professions, careers and academic programs. 
As a capstone assignment projects for many courses, students apply classroom learning to their own professions and interests. The symposium creates a marketplace of ideas where ChattState students network with each other and professionals in their field.  Students were available to discuss how their experiences in the classroom gave them skills and confidence to be successful in their future careers and disciplines.  
Judges for the spring symposium included Dr. Rebecca Ashford, president, Chattanooga State; Larry Parks and Stefanie Crowe, trustees, Chattanooga State Foundation; Deborah Maddax and Dr. Banks, City of Chattanooga; Hunter Huckaby, director, GEAR UP; Josh Brown and Sarah Mattson, Small Business Development Center; Jim Roxlo, Chattanooga Breakfast Rotary Club; and Katrina Garcia, Nooga Nights Rotary Evening Club.
With 150 presentations to judge, choosing just five winners was huge undertaking. 
Tiffany Harvey and Madison Roberts: CATS the Biological Musical ft. E. coli
Tyler Fly, William Akin, Michael Sotelo, Alex Stewart, Rachel Walker, and Michael Dennis: What Makes a Serial Killer
Chelsea Lyons: Recognizing and Understanding Placental Problems with Ultrasound
Ezri Vaughn Davis, Cory Winfree, and Madison Rader: T4 or not T4, That is the Question
Aslynn Price: Issues and Solutions Surrounding Homelessness
For more information about these presentations or about future symposiums, contact symposium coordinator Eric Niemi, Assistant Professor of English at (423) 697-3170 or eric.niemi@chattanoogastate.edu.