Rhea County Awarded Tennessee Economic and Community Development ThreeStar Grant for Workforce Training
November 8, 2019 | Patrick O'Hagan | Internal Press Release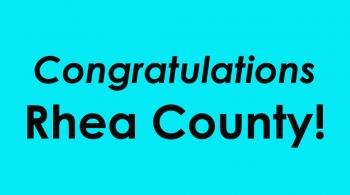 Rhea County was among 59 counties awarded Tennessee Economic and Community Development's ThreeStar competitive grant.  TNECD ThreeStar Director, Jody Sliger, presented the award to John Bamber, Executive Director of Rhea Economic and Tourism Council, at the Governor's Conference on Friday, October 25. 
The award totaling $50,000 will be used to support an innovative twelve-week workforce training and certification program, Skill Up, though Chattanooga State's SETWorks (Southeast Tennessee Works). 
Skill Up prepares individuals with the technical knowledge and hands-on skill needed for in-demand job placement, higher wages and successful performance in the workplace.  Skill Up increases the talent pipeline for local employers, reduces training efforts and improves retention.
The Skill Up curriculum, developed by the Manufacturing Skill Standards Council, delivered over a six-week period, provides the opportunity to earn four individual credentials; Safety, Quality Practices and Measurement, Manufacturing Processes and Production, and Maintenance Awareness. Combined, these credentials make up MSSC's Certified Production Technician (CPT) certificate.  
The grant will provide funding for the certification of an instructor, tools and hands-on training devices to teach and evaluate individual's skills in electrical, fluid power, and mechanical systems through a fully functional mechatronics system, Skill Boss.  Successful demonstration results in a CPT Plus certification.
SETWorks, the Southeast Tennessee Local Workforce Development Board and the American Job Centers will partner with area employers to provide six weeks of the on-the-job training.
The project aligns with Governor Lee's rural development initiative and will strengthen workforce and economic development opportunities for Rhea County.
For more information on SETWorks, contact Patrick O'Hagan at (423) 697-3230 or email patrick.ohagan@chattanoogastate.edu.
This opportunity has been made possible by a collaboration of the following; Tennessee Economic and Community Development ThreeStar Program, Rhea Economic and Tourism Council, the Southeast Tennessee Development District, Southeast Tennessee Local Workforce Development Board, Chattanooga State Community College and the American Job Center.