Ready Day One! Classes Start August 24
August 21, 2020 | Dr. Rebecca Ashford | Internal Press Release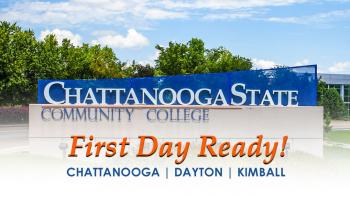 Before Coming to Campus...
If you need to come to campus, you must complete the required health screening questionnaire. The questionnaire must be completed every day and by every individual coming to campus, including multi-passenger vehicles. Every passenger in a vehicle must complete the questionnaire.
Once on campus, a face mask must be worn. All individuals on campus are required to wear a mask when in common areas (hallways, cafeteria, restrooms, etc.), confined spaces (classrooms, labs, etc.), shared spaces (indoor or outdoor), or when two or more individuals are within 6-feet of each other, whether inside or outside.
While the College can do its part in minimizing the risk of COVID-19 on campus, everyone must do their part to support efforts to minimize the spread. You can help keep our campus community healthy by being mindful of your actions and following safety protocols. As such, we are asking all members of the ChattState community to pledge to take responsibility for your own health and help stop the spread of the COVID-19. Read the full Chattanooga State Safe Community Pledge here.
We have developed a few new resources to help make sure you are prepared for the first day of classes. Check out these new videos available at chattanoogastate.edu/fall2020update. 
Technology & Internet Access Resources
Technology Assistance: If you do not have access to a digital device, a limited number of devices are available for check out. Devices will be assigned on a first request, first served basis. A valid ChattState student ID is required to request a device. This is a loaned device and must be returned at the end of the semester. To submit a device request, complete the Technology Request form here. 
On-Campus Computer Access: Kolwyck Library will be open with computers available for homework and online/virtual class attendance. Library access is by appointment only. Click here for more information.Engineering and IT students will have access to Rooms 215 and 216 in the Wacker Institute on a first come, first served basis. TCAT students will have access to TCAT 60 and TCAT 38 computer labs. 
On-Campus Hotspot: EPB installed a hotspot on the ChattState main campus. The device is located in the parking lot near the TCAT Body Shop. To join the network, select the EPB Quick Connect option from the available networks, and then accept the terms and conditions to join. A password is not required. 
Kimball and Dayton Computer Access: Students will be allowed to use lab spaces Monday - Thursday, 8:00AM to 4:30PM and on Fridays from 8:00AM to 2:00PM. Seating is limited due to occupancy guideline restrictions. Remember to complete the health screener questionnaire before going to either site. For Kimball lab access, please call 423-837-1327 prior to going to the Kimball site. For Dayton, please call 423-365-5010.
Hotspots - Marion County: Free Wi-Fi hotspots are available throughout Marion County daily from 6AM to 10PM, courtesy of CVEConnect's high-speed fiber network. ChattState students and employees can take advantage of these hotspots from their vehicles. The hotspot sites are:
  > South Pittsburg: SVEConnect Wi-Fi trailer parked in gravel parking lot next to Dollar General on Cedar Avenue.
  > New Hope: Fire station at 2615 Highway 156, New Hope
  > Kimball: Chattanooga State at 2100 Main Street, Kimball
  > Jasper: Marion County High School, between school and football field.
  > Powell's Crossroads: Fire station at 138 Alvin York Highway, Powell's Crossroads.
  > Whitwell: Christian Worship Center at 208 East Spring Street, Whitwell.
Hotspots - Rhea County: Courtesy of BTC Fiber, these hotspots are located at:
  > Walden's Ridge Community Center, 5364 Dayton Mountain Hwy.
  > Dayton Post Office, 426 1st Avenue