Polytech Academy Chattanooga Hosts Spring Open House Events
February 17, 2020 | Jennifer Tedder | Internal Press Release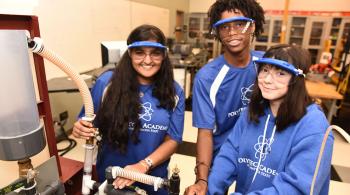 Polytech Academy Chattanooga is a unique blend of high school and dual enrollment classes designed to give Hamilton County high school juniors and seniors a jump-start on their education and career path. 
This is a great program for students that are interested in a career in Chemical Engineering Technology, Mechatronics, or Computer Information Technology. Students take high school and dual enrollment classes at Chattanooga State utilizing Chattanooga State labs and equipment. 
Students and their parents who are interested in learning more, are encouraged to attend an Open House as the first step. Polytech Academy Chattanooga Open Houses are scheduled on February 24, March 23, and April 27 from 6:00-7:00 p.m. in the Center for Engineering, Technology, Arts & Sciences (CETAS) building, room 327 on Chattanooga State's main campus located at 4501 Amnicola Highway. 
For more information, visit chattanoogastate.edu/early-college-pathways or call (423) 697-4492.