Get Ready for Chattanooga State's Virtual Career Fair
February 23, 2021 | Betty A. Proctor | Internal Press Release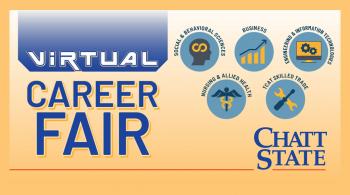 Chattanooga State Community College will be presenting its annual Career Fair over a five-day period during the week of March 29, 2021. This event is open to all Chattanooga State currently enrolled or alumni students who will be able to meet one-on-one with employers in a virtual environment.
More than 1,000 students will be candidates for graduation in May. The Virtual Career Fair provides a way for students to focus on available employment opportunities in their degree field.
Students are encouraged to register to meet with employers representing one or more employment fields, allowing interaction and engagement. The sessions are available daily from 11 a.m. to 1 p.m. and 4 to 6 p.m.
Monday, March 29: Social & Behavioral Sciences
Tuesday, March 30: Business
Wednesday, March 31: Engineering / Information Technologies
Thursday, April 1: Nursing & Allied Health
Friday, April 2: TCAT Skilled Trade
Register to participate on JOBlink at http://bit.ly/csjoblink.
Career Services Director Stephanie Hollis offers these suggestions for career fair success, "View the list of companies on your JOBlink account and decide who you want to meet prior to the event. Make sure you have an electronic copy of your resume prepared to forward quickly to the recruiter." You never get a second chance to make a first impression, so this opportunity may just open the door to your future.
For more information or with questions, call Chattanooga State Career Services at (423) 697-4421 or email careers@chattanoogastate.edu.