Chattanooga State Collegiate High Students Place in Youth Photography Showcase
May 19, 2021 | Betty A. Proctor | Internal Press Release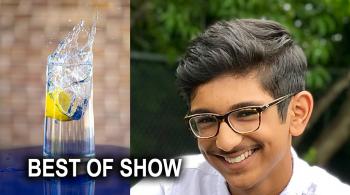 Wikipedia describes photography as the art, application and practice of creating durable images by recording light electronically, chemically or on light sensitive material. In 2021, the Youth Photography Showcase (YPS) marked their 15th anniversary with digital only entries due to limitations imposed by COVID-19. More than 256 images were submitted by 58 students from high schools in the greater Chattanooga area.
Vraj Patel, Leanna Harmon, Jennifer Strobi, and Kelsey Toney, all Hamilton County Collegiate High at Chattanooga State students, entered the 2021 six-category competition. Vraj Patel scored "Best of Show" and a first place Color Choice award for his "Citrus Splash" entry, while he also earned honorable mentions in the Monochrome Choice category for "Isolation" and "Evening Study."
Leanna Harmon placed second in the Color Choice category for "Collide-iscope" while placing third in the Architectural category for "City of Angels," and Jennifer Strobel picked up third place in the People and/or Animals category for "Contemplative Reflection."
Kelsey Toney took home two honorable mentions in the Color Choice category for Spring Break" and "Skywheel."
Some images from the Youth Photography Showcase contest are forwarded to the Photographic Society of America to compete with students from around the world. 2021 entries were judged by Kathleen Greeson, Braam Oberholster, and Mickey Rountree.