Chattanooga State Announces Return to Campus Plans Fall 2021
March 9, 2021 | Betty A. Proctor | Internal Press Release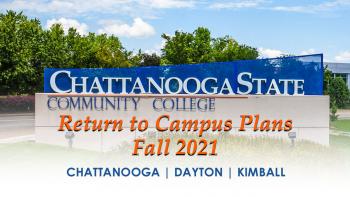 Chattanooga State Community College recently announced plans to be back on campus this fall for both on-campus instruction and student activities.
"We plan for approximately 80% of classes to be held on-campus and in-person for the Fall 2021 semester," stated Dr. Beth Norton, vice president for Academic Affairs. Online, virtual, and hybrid options will continue to be available in a number of classes. 
The College will continue to be guided by federal and state public health officials with an eye on local cases in regard to opening the campus. The health and safety of our campus community remains ChattState's top priority; as such, our plans may be adjusted in relationship to changing information and data related to COVID-19.
Chattanooga State's ongoing commitment to the health and safety of the campus community during the pandemic has not only benefited students, faculty, and staff but the community as well. Meticulous planning followed by implementation of a four-phased approach have effectively mitigated spread.
"We are optimistic about being on campus in the fall 2021 semester and we look forward to seeing our students in person and providing them a safe learning environment," said Dr. Rebecca Ashford, Chattanooga State president." I am really proud of the resilience that our students, faculty and staff have shown during the pandemic."
New students planning to attend this summer or fall are encouraged to apply by March 31. Registration for summer and fall classes open in April on this schedule:
April 5: Veterans - 9 a.m. and Global Scholars – 2 p.m.
April 6: Continuing Sophomores – 9 a.m.
April 8: Continuing Student other than Sophomores – 9 a.m.
April 12: New Students – 9 a.m.