Sixth Annual Dinner of Firsts to Honor Patsy Hazlewood
September 27, 2017 | Tammy Sawyers | College Advancement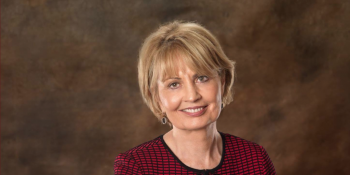 Celebrating "Firsts" is always fun! Save the date and make plans to attend Chattanooga State Foundation's Dinner of Firsts on Thursday evening, November 16, 2017, at The Chattanoogan. The Dinner of Firsts is Chattanooga State's signature "FUNdraising" event with a toast and roast honoring a community leader who is the first in their family to attend college.
This sixth annual dinner event will honor local community leader and philanthropist Patsy Hazlewood with Reggie Piercy serving as event Chair. In addition to being a first-generation college student, Patsy has had a number of other significant "firsts" including being the first female elected to serve as Tennessee State Representative for District 27 and first woman to be elected president of the Chattanooga Rotary Club. Those roasting Patsy include Grady Williams, Dr. Phyllis Miller, Jim Kennedy, her son Ben Hazlewood, County Mayor Jim Coppinger and Nina Coppinger. Jed Mescon will once again serve as Master of Ceremonies.
ChattState is honored to have Jeff Jackson, Market President of First Tennessee Bank along with Greg Vital, President and CEO of Independent Healthcare Properties & Morning Pointe, as our presenting sponsors and evening co-hosts. In addition to being our top sponsors for the event, First Tennessee Bank and Morning Pointe have also provided funding to establish an endowed First in the Family Scholarship in memory of Tom Edd Wilson.
Proceeds from the event fund scholarships for first-generation students and are divided equally between the annual First in the Family Scholarship and the Tom Edd Wilson First in the Family Endowed Scholarship. Nearly half of Chattanooga State students that apply for financial aid are the first in their families to attend college. Earnings from the first five years have generated more than $270,000 to support 135 students with First in the Family scholarships.
Learn more about Dinner of Firsts at chattanoogastate.edu/dof. For additional information on sponsorship levels and tables for Dinner of Firsts, please contact me at tammy.sawyers@chattanoogastate.edu or call (423) 697-3359.