Highlights from Dinner of Firsts – A Golden Celebration
December 8, 2015 | Tammy Sawyers | College Advancement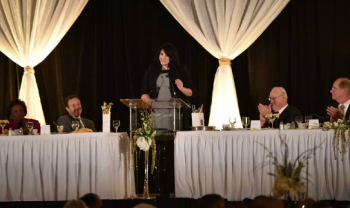 The 4th annual Dinner of Firsts was held at the Chattanooga Convention Center on Thursday, December 3rd. Under the leadership of Edna Varner, Event Chair, friends of the College toasted the 50th Anniversary of Chattanooga State and roasted John Germ. John was the first in his family to finish college, and those roasting John included Zach Wamp, Patsy Hazelwood and Harry Fields. Proceeds of the Dinner fund First in the Family Scholarships through the Chattanooga State Foundation.
The event also featured First in the Family Scholar Amanda Griffin (pictured above at the podium) who had this to say about receiving the Chattanooga State Foundation's First in the Family Scholarship:
"I was so grateful to get the news that I received the First in the Family scholarship. It put my mind at ease and let me concentrate on being a mom and getting good grades. I am currently a member of Phi Theta Kappa and have been on the Dean's list for the past 3 semesters. I can now see my hard work paying off.
You all have not only given me a scholarship, but you have given me self confidence, self worth and my voice back, which was silenced for so many years.
In the pursuit of my degree this shy, introverted girl has now transformed into someone who studied abroad, became president of the Media Club, Web Editor for The Communicator, anchoring Today@ChattState and a student worker in the Multicultural Office. This past summer I was able to co-direct my first short film entitled Life in Motion with the help of my summer film class. None of this would have been possible had I not received this scholarship.
You have changed my life. Now when I look in the mirror, I see a confident woman who is ready to conquer the world….Whatever the future has in store for me, I know that I am going to succeed, because I was given the opportunity to be the first in my family to go to college. Thank you so much."
The Chattanooga State Foundation is grateful for the generous support from corporate sponsors and attendees and a dedicated team of volunteers who helped make this year a golden celebration!
You can help us provide additional scholarships by making a gift to the Chattanooga State Foundation's First in the Family Scholarship. Please select  "First in the Family Scholarship" from the drop-down menu when you make your gift online.