ChattState's Dinner of Firsts Raises $70K For Scholarships
December 16, 2017 | Tammy Sawyers | College Advancement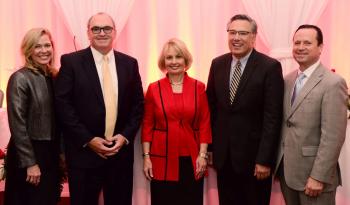 Chattanooga State's Dinner of Firsts 2017 had net proceeds for the event totaling more than $70,000, with $50,000 earmarked for the inaugural Tom Edd Wilson First in the Family Endowed Scholarship and $20,000 to the annual First in the Family Scholarship.
This sixth annual dinner event honored local community leader and philanthropist Patsy Hazlewood, with Reggie Piercy serving as event chair. Those roasting Patsy included Grady Williams, Dr. Phyllis Miller, Jim Kennedy, her son Ben Hazlewood, County Mayor Jim Coppinger and Nina Coppinger. Jed Mescon served as the master of ceremonies. First in the Family Scholar Ashlee Kovalik provided a special message for the audience.
Please enjoy photo highlights from the event here.
The evening began with an opening toast by co-hosts and event sponsors Greg Vital, president and CEO of Independent HealthCare Properties & Morning Pointe, and Jeff Jackson, market president of First Tennessee. In addition to being top sponsors for the event, First Tennessee Bank and Morning Pointe also provided funding to establish an endowed First in the Family Scholarship in memory of Tom Edd Wilson.
It is with deep appreciation that Chattanooga State recognizes the 43 corporate and individual sponsors, the many individuals who reserved seats, and all those who made donations to the Tom Edd Wilson First in the Family Endowed Scholarship for their support. Additional gratitude is extended to media sponsors WTCI-TV and Brewer Media Group and to Chattanooga Funeral Home, Crematory & Florist for providing the striking floral decorations for the evening.
This event would not have been possible without support from a talented and hardworking group of volunteers that included Saundra Adams, Sandra Brewer, Nicole Brown, Stefanie Crowe, Julie Davis, Harry Fields, Duffy Franck, Linda Hisey, Bobby Lusk, Marcus McKamey, Diane Parks, Sarrie Pasch, Kim Pendergrass, Scott Rix, Albert Secor, Zebedee Williams, Kathi Grant Willis and Tammy Zumbrun.