What is the BOSS Program?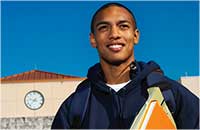 The Bridging Our Students to Success (BOSS) is a co-curricular high impact educational program designed to assist students in the transition from high school to college in a supportive and familiar environment. Since 2012, BOSS has worked with students to foster academic and social preparedness while attending Chattanooga State Community College and beyond.
Participating in BOSS Provides...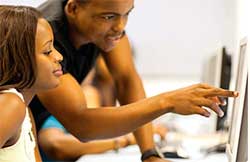 Individual Guidance: Assistance in making a smooth transition to college.
College courses designated specifically for BOSS participants.
Tutoring: One-on-one assistance, as well as access through BOSS Program tutors and Chattanooga State tutoring services in reading, writing, and math.
College campus visits and cultural enrichment: Students may be offered tours of four-year colleges and universities as well as opportunities to travel domestically and abroad, which enhance life experiences.
Community Service Projects: Ability for participants to give back to their own high schools and community.
Mentoring: Community leaders and second-year participants mentor first year participants, encouraging their successful journey toward graduation.
Who Can Participate?
BOSS students are underrepresented students who are enrolled at Chattanooga State Community College and meet any of the following requirements:
In need of academic support
Seeking a community of learning and leadership
A first-generation college student
Want to Join Us?
Please go to chattanoogastate.edu/boss to complete an application. Our staff will contact you to set up an introductory meeting.
Additional Opportunities
Summer Bridge: This program is designed to allow new students to meet other BOSS students and get a taste of college life before beginning the new school year. During the Summer Bridge, students will take part in a college simulation, complete with fun activities and reflections, ending with an outdoor leadership retreat. Students should walk away feeling ready for their first semester at Chattanooga State.
BOSS Talks: These are weekly open dialogues about issues of concern that are intended to build community, enhance friendships and relieve stress. Talks will be led by various community leaders and mentors associated with the BOSS Program.
Events: Whether it's performing at a Spoken Word event or celebrating the end of the semester, participating in events and programs gives you an opportunity to put your classroom knowledge to practice. Not only are students allowed to take part, students are also encouraged to be part of the planning process.   
BOSS Student Organization: The BOSS Student Organization operates as an opportunity for students to gain leadership development and teambuilding skills. Officers serve as ambassadors for the BOSS Program at Chattanooga State and throughout the community  
Contact Us
Amanda Jordan, BOSS Program Coordinator
amanda.jordan@chattanoogastate.edu
423-697-2471
Like Us on Facebook!
Watch Us on YouTube!
BOSS Learning Community
BOSS Learning Community Mentors are a selected group of current BOSS Program Participants who are individuals who have demonstrated academic promise and considerable commitment to the BOSS Program. They provide encouragement, guidance, and support for First-Year Learning Community members as well as at-large BOSS Program Participants. They are responsible, compassionate, and hardworking, always willing to serve Chattanooga State and the Chattanooga Community 
Objectives of the BOSS Program Learning Community
To develop a community of scholars with common goals and purpose
To create a safe space where students of color can be and become their authentic selves
To promote global awareness and cultural enrichment
To support students in their transition to Chattanooga State academically, socially, and personally
To assist students in an assessment process of their abilities
To eliminate physical and psychological barriers of academic and personal success
To promote attendance inside and outside of classroom engagement
Expectations of Learning Community Mentors
Attend the Summer Bridge Program
Register for an elective course specifically designed for the Learning Community Mentors
Be knowledgeable of on-campus resources and ability to provide students with the proper referral
Have interest in and encourage other students to participate in the BOSS Student Organization and various events offered by the college and community
Regular contact with First-Year Learning Community Members to assist in the retention process
Recruitment of new BOSS Program participants during on-campus events, high school presentations, and out in the Chattanooga community
Minimum Requirements
Must be attending Chattanooga State for the entire academic year
2.5 cumulative GPA
Academic good standing with Chattanooga State
Two (2) references with your application
Interview with BOSS Program Staff