Get Involved!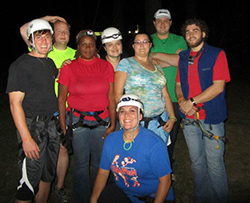 Involvement with student clubs and organizations provides students with an opportunity to build connections, network within the campus community, plan activities, and gain practical experience that complements their academic programs.
Chattanooga State offers numerous opportunities for students to participate by joining clubs and organizations. With over 40 clubs and organizations to choose from, all students can find something that appeals to their interests.
Club of the Year, Media Technology Club!
The Media club can be seen on campus at every event causing a ruckus. They are either filming or taking pictures of what's going on so that they could later produce a film that includes all of the fun and funny moments. The media club also maintains a huge presence at the Chattanooga Film festival and have gained city-wide acclaim for their work. If you have not done so already, stop by the Media building, interrupt them in their editing bays and congratulate them on a great year!