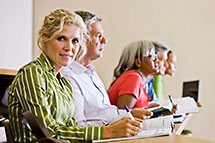 Are you an adult student 40 years of age or older? Do you need some help in deciding where to start? The Adult Services Center can help you!
We Provide...
personalized advising for admissions, readmission and/or transfer
assistance with understanding academic policies, rules and regulations
an abundance of information and forms regarding services, offices and departments at the college
information on careers, childcare, financial aid, housing and personalized referral to other college services
mentoring from current students
an online networking community for adult students
seminars and special events
assistance with forming study groups with other adult learners
inquire about forming or joining a study group
Make a Personal Appointment
Monday and Thursday 10:00 A.M. to 6:00 P.M.
Tuesday and Wednesday 10:00 A.M. to 5:00 P.M.
Resources