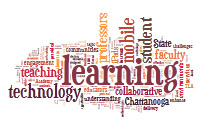 The Chattanooga State Community College Teaching & Learning Academy (TLA) provides a forum for the scholarship of teaching and learning. The Academy sponsors open-discussion forums, professional development workshops and seminars to enhance the skills of the faculty.  TLA Workshop Resources
Mission:
The Academy's central mission is to create a community of educators and learners who work together to improve their understanding of student learning, to share that understanding with others, and to enhance the learning environment.
New Faculty Seminar
The New Faculty Seminar is intended to provide new faculty with a detailed overview of the skills necessary to succeed at ChSCC. Topics include: faculty evaluation and development of a teaching portfolio, college policies and procedures for working with college support organizations (Advising, Computer and Network Services, Admissions and Records, Continuing Education, Athletic Department, Bookstore, Bursar's Office, Business Office, Child Development Center, Communicator, Financial Aid, Marketing, RODP, Center for Distributed Education, Faculty Senate, etc.), and strategies for excelling as a ChSCC community college faculty.
The seminar meets on the third Friday of each month (excluding December, May, June and July) discussions include instructional design and delivery methods, the use of learning technologies and quality instruction to class sections of varying size. Also, discussion topics may include managing difficult students, academic freedom, and professional ethics.
ChSCC eLearning & Mobilization
Mobilization Project
Partnerships
Faculty Resources
Advising
Teaching and Learning
Teaching Resource Links
TLA Advisory Board Members
Dr. Fannie Hewlett Provost and V-P for Academic Affairs
Cheryl Turner, N/AH,TLA co-chair
Donna Seagle, Director of Ed. Tech. & Design/Associate Professor,TLA co-chair
Ken Goldsmith, B&I,TLA secretary
Kathy Trotter, SBSC,TLA communications/web officer
Nora Burke, Computer Services
Leigh McGregor, B&I
Greg Bennett, EE
Andrea Sanders, HFA
Brian Hale, HFA
Shawn Brabham, HFA
Kathleen Puri, N/AH
April Crenshaw, M&S
Catherine Nightingale, M&S
Evelyn Mobley, M&S
Cinda Adams, SBSC
Jimmy Jones, TTC
Mosunmola George-Taylor, Dean M&S
David Stanislawski, Department Head M&S
John Haworth, Department Head SBSC
Eva Lewis, Associate V-President, IR&E
Teletha McJunkin, Director of Assessment and Planning,IR&E
Susan Jennings, Dean Library Sciences
Brittany T. Richardson, Coordinator of Library Instruction
Judy Lowe, Assistant VP, Center for Distributed Education